The world of gaming has seen massive growth in recent years, with more and more players looking for high-quality and innovative gaming accessories. One of the most essential components of game peripherals is a good gaming keyboard, which can enhance the player's performance and overall experience. As the demand for gaming keyboards continues to increase, the market has become crowded with options from various gaming keyboard manufacturers. This makes it difficult for players to choose the right gaming keyboard for their needs.
In this blog post, we'll take a look at the Industry Leader in Gaming Keyboards and the top gaming keyboard brands of 2023 and what sets them apart.
The Industry Leader in Gaming Keyboards
The gaming keyboard industry is constantly evolving and improving, and the best gaming keyboard brands are at the forefront of innovation and quality. These brands invest heavily in research and development to create new and improved gaming keyboards that offer players an unparalleled experience.
From the use of high-quality materials to advanced technology, gaming keyboard manufacturers are committed to providing the best products to their customers starting from the use of mechanical switches to advanced lighting systems.
The Importance of a Good Gaming Keyboard
A good gaming keyboard can make a significant impact on a player's performance and experience. A well-designed gaming keyboard can help players perform faster and more accurately, allowing them to immerse themselves in their games and achieve their goals. The right gaming keyboard can also help players to reduce fatigue and increase their overall comfort, which is especially important during extended gaming sessions.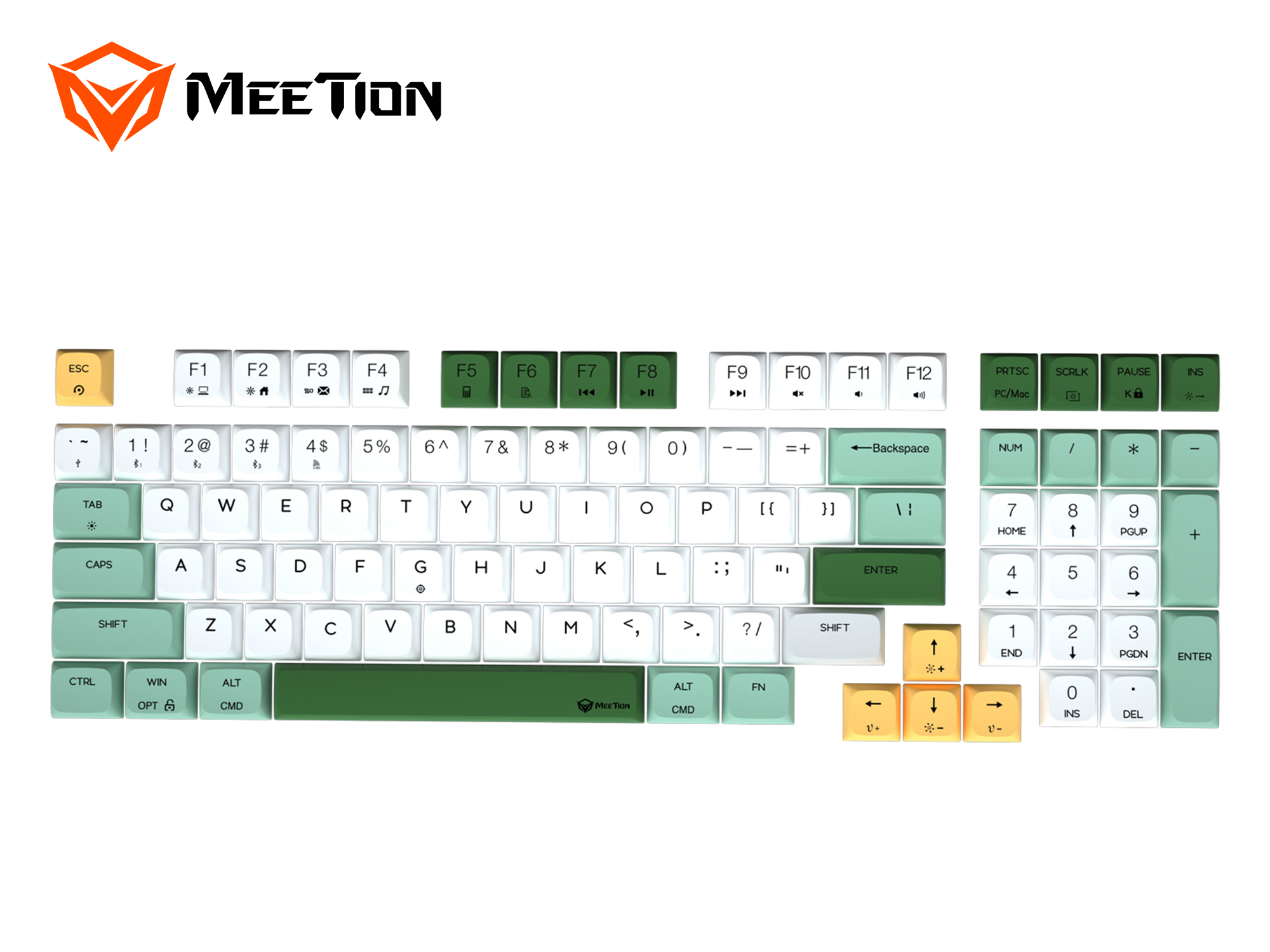 What is more important about gaming keyboards?
When shopping for a gaming keyboard, there are several key factors to consider. Let's take a look at the most important features to look for.
1-Mechanical vs Membrane Keyboards
One of the most important decisions to make when choosing a gaming keyboard is whether to go for a mechanical or a membrane keyboard. Mechanical keyboards use individual switches for each key, providing a tactile response and a satisfying click sound. They are also more durable and offer better performance for gaming. Membrane keyboards, on the other hand, use a silicone dome under the keys to register keystrokes. They are typically less expensive and quieter than mechanical keyboards, but they may not offer the same level of performance.
2-Key Rollover
Key rollover refers to the number of keys that can be pressed simultaneously and still register as individual keystrokes. For gaming, it is important to have a high key rollover, as this will allow players to perform complex actions without having to worry about key ghosting.
3-RGB lighting
RGB lighting is a popular feature on gaming keyboards and for good reason. Not only does it provide an attractive and customizable aesthetic, but it can also enhance the overall gaming experience by providing clear and bright lighting for each key.
4-Customization options
Many gaming keyboards offer customization options, such as programmable keys, macro creation, and software customization. These features allow players to personalize their gaming keyboards and tailor them to their individual needs.
Why do a lot of Gamers Use 60% of keyboards?
Gamers use 60% of keyboards because they see that this keyboard offers a compact design that provides more desk space for mouse movement, making it easier to execute precise movements in games. Additionally, the compact layout allows for quicker access to frequently used keys and can be more comfortable for some users, as it reduces hand and arm movement.
Top Gaming Keyboard Brands of 2023
1. Corsair
Corsair is a leader in the gaming keyboard market and offers a range of high-quality products for players of all levels. From budget-friendly options to high-end mechanical keyboards, Corsair has a product for everyone. Its keyboard features boast a sleek design and exceptional functionality. The company has put a focus on enhancing the keyboard's response times with the use of optical-mechanical keys and Axon technology, claiming to offer up to 8 times better performance than other gaming keyboards.
2. Razer
Razer is a well-known brand in the gaming industry and offers a range of gaming keyboards to suit a variety of needs. From mechanical keyboards to membrane keyboards, Razer offers a wide range of products that are both innovative and high-quality. The keyboard doesn't feature that satisfying 'click' that some gamers would want. Instead, the vendor has implemented stabilizers and 'Yellow' mechanical switches to reduce sound. The fuss-free design might appeal more to professionals than to hobbyist gamers.
3. Logitech
Logitech is a trusted brand in the gaming keyboard market and offers a range of high-quality products at affordable prices. Their gaming keyboards are known for their innovative technology and attractive design, and they offer a range of options to suit different needs. Key features of their gaming keyboards include their resistance to wear and tear and it's affordable and programmable keys and durable construction.
4. SteelSeries
SteelSeries is a brand that is known for its high-quality gaming accessories, and its gaming keyboards are no exception. From mechanical to membrane keyboards, SteelSeries offers a range of products that are designed for performance and durability. SteelSeries gamine keyboard features a full-sized keyboard, an ample wrist rest, and mechanical switches that can be adjusted for sensitivity, an unusual addition. Furthermore, the keyboard is wrapped in an aluminum frame.
5. MEETION
MEETION is an emerging company in manufacturing gaming keyboards that are dedicated to bringing the best gaming experience to players everywhere. Whether you're a hardcore gamer or just someone who wants to enjoy a quality keyboard, MEETION has something to offer.
The MEETION GAME SERIES is a complete package of gaming equipment including keyboards, mice, and headsets, designed to give players a complete gaming experience. We're proud to offer a wide variety of exceptional gaming keyboards that cater to different preferences and needs, so you can find the one that's perfect for you.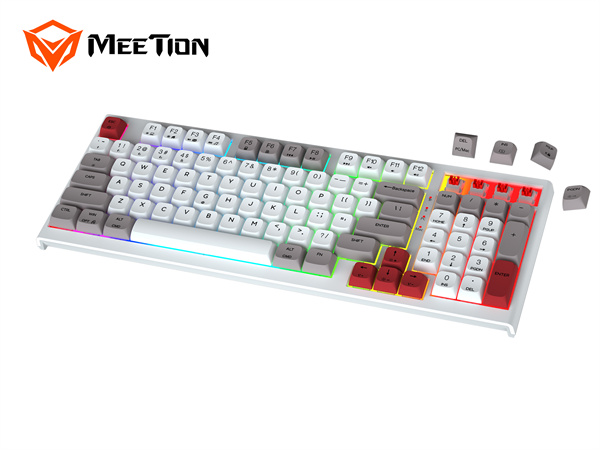 So, let's dive into what makes MEETION gaming keyboards so special.
First and foremost, we offer a wide range of keyboards types with superior performance and durability, including:
● MK600RD Mechanical Gaming Keyboard
● MK600MX Mechanical Gaming Keyboard
● K9000 Backlit Gaming Keyboard
● MK007 PRO Mechanical Keyboard
● MK005BT Bluetooth 60% Gaming Keyboard
Some of these gaming keyboards use OUTEMU red or green switches, and metal panels, and contain various text functions. MK007PRO has most of the advantages mentioned above. The keyboard has good-looking RGB lighting models and key rollover. You can also replace the switch of this keyboard yourself.MK005BT is the 60% representative product mentioned above.
Our focus as a professional gaming keyboard manufacturer is always offering High-End Gaming Keyboards for gamers and delivering superior performance & durability to satisfy their needs and help them to maximize their playing experience.
Check out our website to learn more about our keyboard products and choose the right one for you.