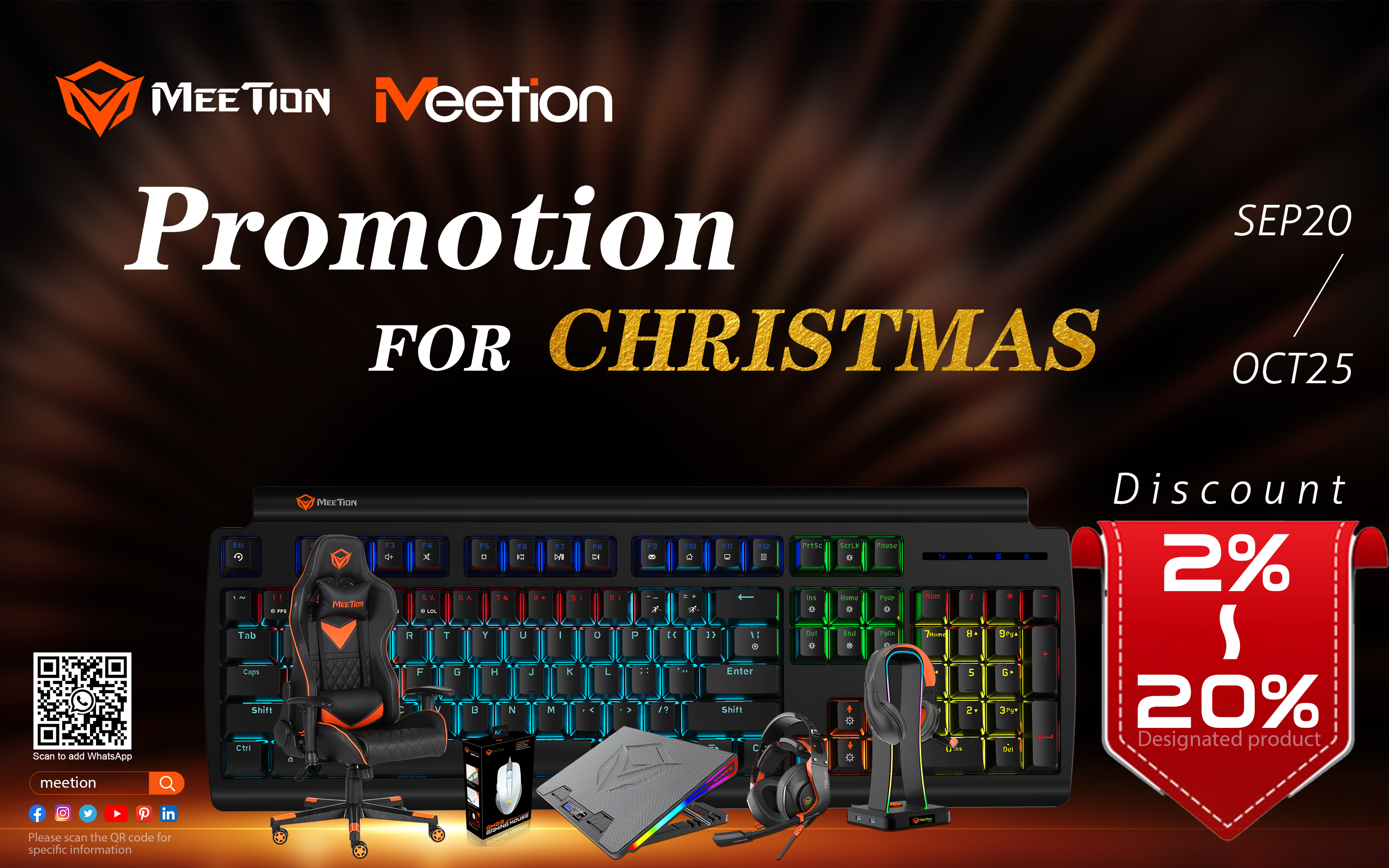 As the holiday season approaches, MEETION is delighted to announce a special promotion for our valued customers. With a wide range of high-quality computer peripherals and accessories, including gaming mice, keyboards, headsets, and more, MEETION is your one-stop destination for all your gaming needs. Our aim is to enhance overall sales and meet our target goals.
MEETION is a renowned brand in the computer peripheral industry, specializing in wholesale distribution. We pride ourselves on offering cutting-edge products combining innovative technology and sleek design. With a loyal customer base, we are committed to continuously improving our offerings and providing exceptional customer service.
Christmas Preparations: To make this holiday season even more exciting, we have prepared an exclusive promotion for our customers. From September 20th to October 25th, MEETION will be offering irresistible discounts on selected products with discount rates ranging from 2% to 10%. Enjoy up to 20% discount on some products。
Don't Miss Out: This is the perfect opportunity to upgrade your gaming setup or find the ideal gift for your loved ones. Whether you're a professional gamer or an enthusiast, MEETION has everything you need to take your gaming experience to the next level. Our discounted prices allow you to enjoy premium products at an exceptional value
Why Choose MEETION: At MEETION, we understand the importance of quality and reliability in gaming peripherals. Our products are designed with precision and durability in mind,
ensuring optimal performance during intense gaming sessions Moreover, our dedicated customer support team is always available to assist you with any inquiries or concerns, providing a seamless shopping experience
Join Us for an Unforgettable Christmas: Visit our official website during the promotional period to take advantage of these amazing discounts. Follow us on social media to stay updated on the latest product releases, exclusive offers, and gaming tips.At MEETION, we believe in bringing joy to our customers, and we look forward to being a part of your
unforgettable Christmas experience. In conclusion, MEETION invites you to embrace the holiday spirit with our exciting Christmas promotion. Explore our wide range of gaming peripherals at unbeatable prices, and join us in celebrating this festive season. Don't miss out on the opportunity to enhance your gaming setup while enjoying substantial savings.