Are you tired of using a basic mouse for both work and gaming? Then, it's time to level up with a gaming mouse. Gaming peripherals offer a new level of precision and accuracy, perfect for intense gaming moments where every move counts. While a standard mouse might suffice for simple tasks like navigating spreadsheets or scrolling through emails, gamers require peripherals capable of withstanding intense physical stress and providing unrivaled precision. Therefore, each component of a gaming mouse is meticulously chosen to provide the best possible performance. Everything about a gaming mouse is optimized to offer a superior gaming experience, from the materials used to the placement of buttons.
Differences between Regular Mouse vs Gaming mouse
The parts that make up a mouse define whether it's a regular or gaming mouse. Some of the top features that make them different are:
1. Precision Sensors
Compared to a regular mouse, a gaming mouse has high-end sensors that detect the slightest movements to improve aim accuracy. A regular office mouse typically has a 1000 dpi optical sensor. There are mainly two types of gaming sensors:
● Optical Sensor: These sensors use a light source and an image capture device to record movements. They are the most commonly used sensors because of their ability to work on various surfaces. A mouse with an optical sensor can work on any surface except for transparent glass or acrylic. Some of the top-performing optical sensors are:
| | | |
| --- | --- | --- |
| Optical Sensor | Max DPI | Max IPS |
| PixArt PMW3389 | 16,000 | 450 |
| Logitech HERO 25K | 25,600 | 400+ |
| Razer Focus+ | 20,000 | 650 |
● Laser Sensor: If you have a flawless surface to glide your mouse on, laser sensors are the best for unparallel precision. It works on any surface, even on transparent glass or acrylic sheets. However, gamers prefer using it on a metal mouse pad as it is prone to picking up the slightest of inaccuracies on the surface, which can lead to jitter. Some of the popular laser sensors are:
| | | |
| --- | --- | --- |
| Optical Sensor | Max DPI | Max IPS |
| PixArt PMW3389 | 16000 | 450 |
| Logitech HERO 25K | 25600 | 400+ |
| Razer Focus+ | 20000 | 650 |
2. Acceleration
It is the maximum rated value of acceleration a mouse can undergo and still register the movement. Typically gaming mice come in 40g or 50g acceleration, which is higher than a human shoulder (20g) can produce. A mouse with higher acceleration may be beneficial in games that require quick, sudden movements, such as first-person shooters. However, a mouse with lower acceleration may be more suitable for games that require precision and accuracy, such as strategy or simulation games. Gaming mice come with a specific acceleration rating that users can look for when purchasing.
3. Microswitch
Gaming mice come with switches like Kailh GM 8.0, Omron D2FC-F-7N, TTC, Huano Blue Shell White Dot, etc., that provide a mindboggling number of rated clicks. Any issue a regular mouse might face, like double clicks and failure to register a click, may never occur in a gaming mouse's lifetime. They are reliable and long-lasting, which as a result, makes them more expensive.
4. Polling Rate
A higher polling rate means that the mouse communicates with the computer more often, opening new horizons of accuracy and precision. A higher polling rate leads to smoother and more precise movements critical for games where split-second reactions can lead to winning or losing. Professional gamers choose products like the MEETION GM19_2023 that can go between 125~1000Hz with a higher polling rate.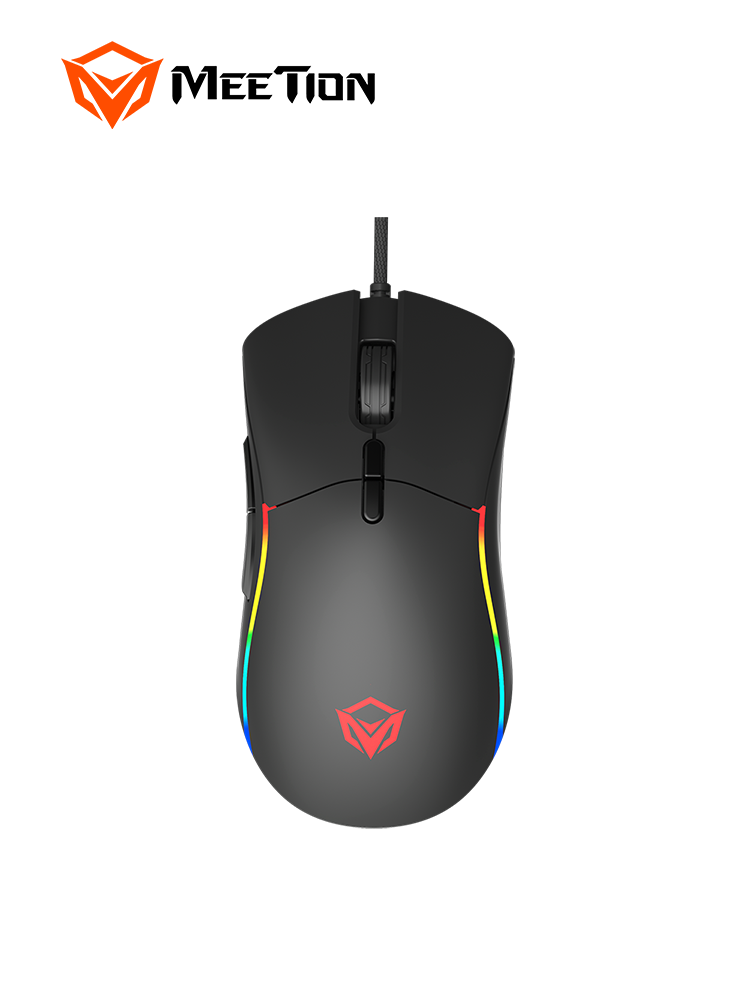 5. Ergonomics
A regular mouse is designed keeping economics in mind. Usually, their shape is ambidextrous and suitable for both right and left-handed personnel. However, getting a firm grip on your movement machine is critical for gaming. The most popular design is the right-hand or left-hand mouse with a thumb rest. It reduces stress on the hands and allows long-gaming sessions.
A regular mouse might come in various shapes, like a vertical mouse, contoured mouse, and trackball mouse, but using them for gaming is impossible. This is because they do not provide the accuracy required during fast movement when there is lots of acceleration involved. So instead, entry-level gamers can go for a lightweight ambidextrous mouse like the MEETION GM20_2023 as a starter to understand the difference in performance when opting for a gaming mouse.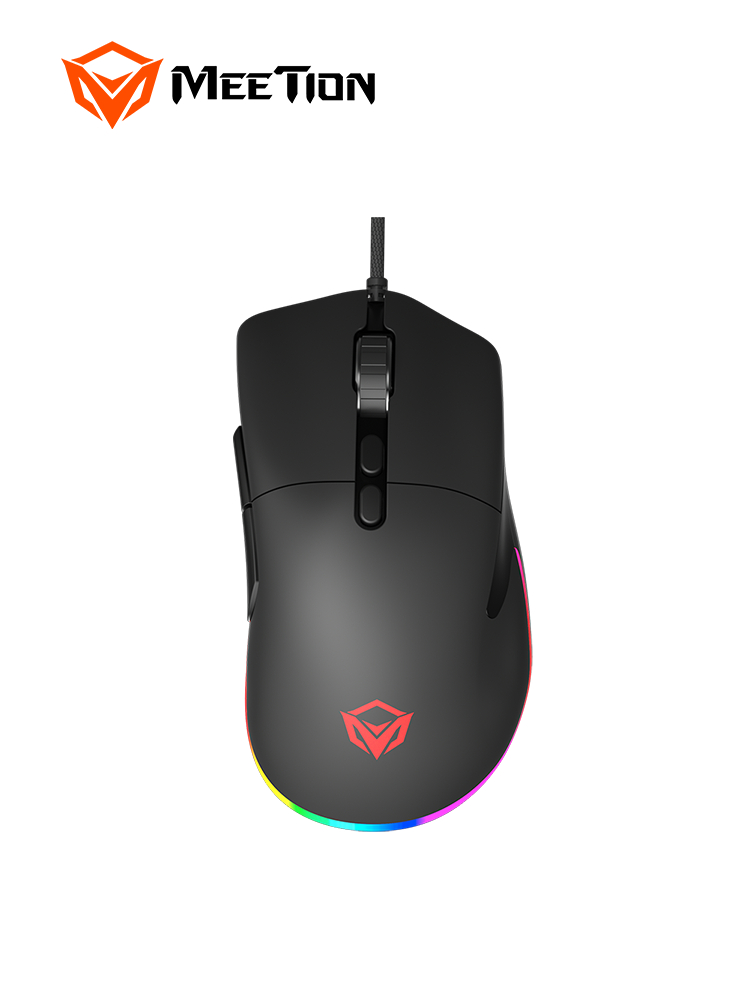 6. Weight Customization
The constant evolution of gaming devices has led gaming mouse suppliers to innovate and introduce weight customization. As a result, a regular office work mouse has a lightweight body suitable for small movements and no-lift situations. When gaming, the mouse might need to be lifted multiple times. Gamers prefer significant hand movement translating into a slight onscreen movement to improve accuracy. However, constant lifting can cause fatigue, so gamers like to adjust their mouse with just the right amount of weight they are used to. Small metal blocks or plates are removable to provide weight adjustment. On the other hand, an office mouse usually doesn't offer a weight-changing capability.
7. Adjustable DPI
Dot per Inch (DPI) or resolution provides more control, typically in games that require switching between scope and 3rd or 1st person view. When scoping, you require more accuracy and sensitivity, which a higher DPI achieves. In addition, setting the mouse to a higher DPI will require more significant mouse movements, translating into smaller onscreen movements. For example, while using a sniper scope, you must quickly change your DPI to a higher value for precision. A high-end mouse like the MEETION GM21_2023 can adjust DPI live during gaming. This gives gamers an added advantage and control. An office mouse comes with a single resolution 1000dpi resolution as consistent performance matters more in official matters.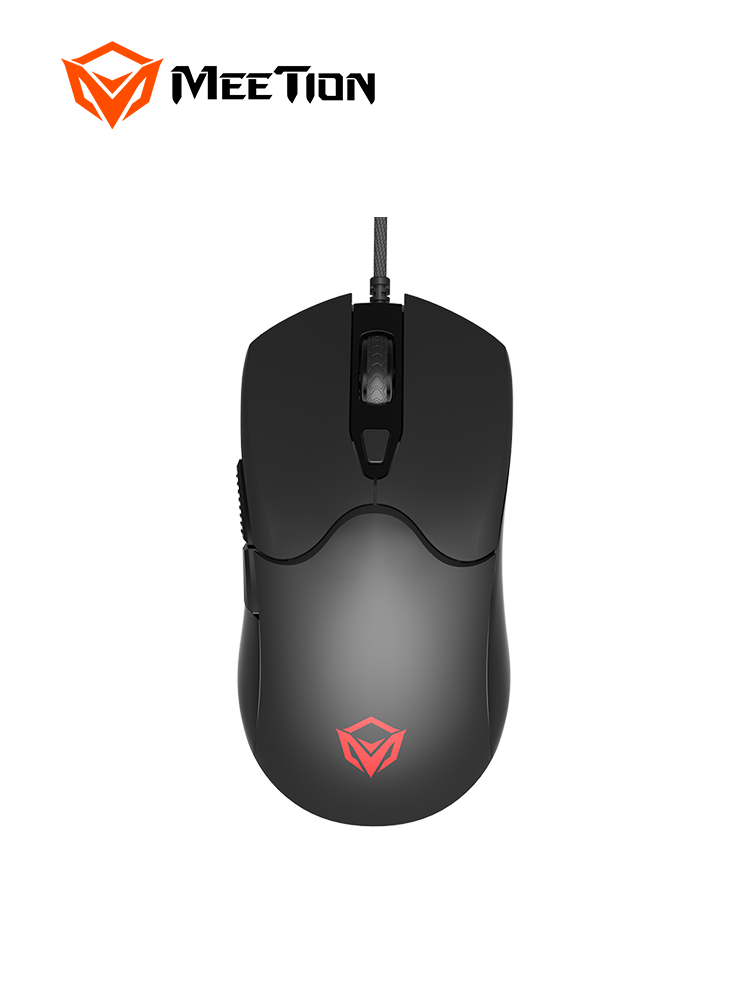 8. RGB Lighting
What's a gaming setup without any aesthetically pleasing equipment? Red-Green-Blue (RGB) lighting has taken the world of gaming by storm. In gaming, strobing lights and matching colors are everything a gamer asks. However, minimalistic designs are popular for a clean and contemporary look in an office or office work mouse. Modern gaming mice enhance immersion by matching in-game situations with equipment lighting to enhance the experience. For example, if you are getting chased by police in a game, the lighting would start glowing like the red-and-blue of a police car. Gaming mouse suppliers often provide software to customize the color of their RGB or effect as per requirement.
9. Customizable Buttons
Manufacturers have incorporated 10+ programmable buttons on a mouse, but are they useful? Unfortunately, many users have yet to explore the tremendous advantages of extra buttons for gamers and office use. In gaming, enabling abilities, drinking a potion, opening a scope, and switching weapons are some of the many quick access programmable buttons provide. In office use, programmable buttons can switch between windows, open specific software, or perform a set of instructions with a single tap. For music enthusiasts, a vertical mouse like the Meetion R390 provides comfort for long working hours and volume control through a dedicated scroll.

11. Replaceable Feet
Constant movement on metal, wood, glass, or hard surface causes mouse feets degradation. Irrespective of being a gaming or office mouse, the feet deteriorate with time due to constant abrasion between surfaces. Modern gaming mice come with replaceable feet, readily available on e-commerce websites. Office mice often require complete device replacement. Polytetrafluoroethylene (PTFE) is the most popular material utilized in mouse feet. However, laser sensor-based mice requiring hard surface operation have aluminum or ceramic feet. Therefore, owning a mouse with PTFE-based feet, whether an office or gaming mouse, is convenient.
13. Faster Wireless Technology
There are options for wireless regular or gaming mice. Generally, gaming mouse technologies are faster due to their requirement for faster communication between the mouse and computer. The most popular is the 2.4GHz Wireless RF technology. In addition, wireless mice eliminate the need for lighter cables or resistance while skidding.
Conclusion
Whether it's a gaming or regular mouse depends on the user. Skill is the most crucial factor in gaming. However, a mouse can provide advantages that give a competitive edge over rivals. In conclusion, a gaming mouse is designed for more vigorous operation and physical stress. They are faster than office mice, but the simplistic design and ambidextrous ergonomics should be considered in the gaming mouse. Both of the mice are irreplaceable. A gaming mouse is not preferred to be used as an office work mouse. Whereas using an office mouse for gaming is possible, the user loses the advantage their gaming rivals will have over them. Considering the gaming budget and skill level, a gamer can select either of the two types for gaming.
FAQs
Q: What are some popular gaming mouse brands and models?
Many brands produce high-end gaming mice. For example, Razer Basilisk V3 is an exact and ergonomic gaming mouse for professional gamers. On the other hand, if you are looking for a budget option offering a professional sensor with 12000 dpi, then Meetion GM21 is ideal. Other brands like Logitech, Corsair, and SteelSeries produce high-end gaming mice.
Q: Will my gaming performance change with the regular mouse?
There are many advantages that a gaming mouse offers that regular mice do not feature. Adjustable DPI, programmable buttons, acceleration, polling rate, light wires, replaceable feet, precision sensors, high-end microswitch, etc.. are some of the features not available in a regular mouse. When gaming, a rival player might have a competitive advantage using a gaming mouse, but it all comes down to skills.
Q: How important is a mouse's DPI for gaming?
Higher DPI means that significant mouse movement leads to slight on-screen movement in gaming. It enhances precision and accuracy. In a single gaming session, a gamer might need to switch between DPI to change mouse movement. For example, while using a scope or 1st person view. An adjustable DPI button is vital for professional gamers.
Q: Do gaming mice have more buttons than regular mice?
Generally, gaming mice have more buttons as they are programmable and used for switching weapons, applying potions, scoping in, crouching, and other actions while gaming. It gives a competitive edge, requiring less time to perform these maneuvers. A microsecond advantage in high-intensity games like Counter-Strike and Fortnite can lead to winning.