Introduction to Keyboard Mouse Combos
Whether you are gaming or working in an office environment keyboard and mouse are critical components of any computer setup. In gaming, it can make a difference between winning and losing. In an office setup, it can lead to enhanced productivity and efficiency. Therefore, finding the right gaming mouse and keyboard combination is vital for an improved overall computer experience.
What are keyboard-mouse combos?
Generally, gaming mouse manufacturers offer a package deal that includes a gaming keyboard with a similar ergonomic design. In addition, the two input devices provide navigation through your interfaces, such as Windows, Linux, or macOS. Everything from exploring the internet, filling spreadsheets, and aiming in first-person shooter games is achieved using a mouse and keyboard.
Why are they useful?
Gaming setups require a gaming mouse and keyboard to become functional. Finding the correct balance in features with different manufacturer products is complex. Keyboard-mouse combo offers several features that separate devices lack:
Convenience
Keyboard and gaming mouse supplier design their product for a specific purpose. A product might be ideal for a first-person shooter game or MOBA, but it may not be suitable for office work. Manufacturers combine products with a similar purpose to save buyers time in decision-making.
Affordability
The keyboard-mouse combo is always less expensive when comparing the affordability of two separate devices. In addition, over-the-top features are typically not included in the combination, which increases their demand, allowing manufacturers to keep them an attractive option for users on a budget.
Compatibility
Modern devices do not require any additional driver installation to work with an operating system. However, software such as Logitech G Hub, SteelSeries Engine, Razer Synapse, etc., are meant for similar products. Therefore, purchasing different brand products requires unique software, reducing compatibility. Combo devices are from one brand and require one software for control representing compatibility.
Ease of use
Setting up a combo to work is simple as plug-and-play. The interface is a USB connection or a wireless interface. A single dongle can work for both devices, making them respond faster and occupying fewer computer USB ports.
Ergonomics
Keyboard and gaming mouse manufacturers have a user in mind, and they design their products to make them compatible. An ergonomic design provides comfort and reduces fatigue, a common problem with these input devices. For example, if a device is suitable for left-handed personnel, the combination of the device will be compatible with left-handers.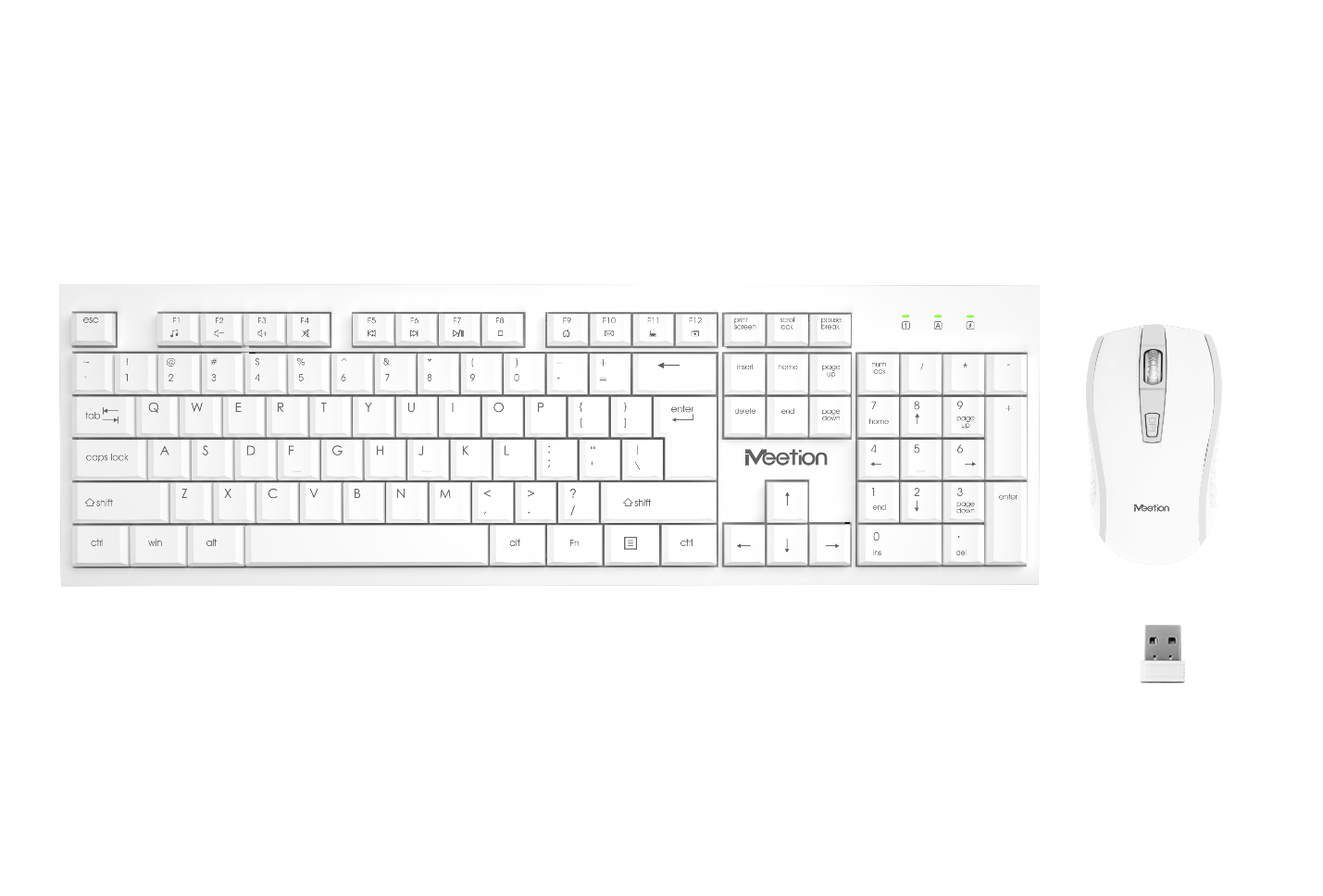 Wireless Keyboard Mouse Combos
A wireless keyboard-mouse combo can have a connection based on Bluetooth or 2.4GHz Wireless connection. However, they have their relevant audience considering both technologies' advantages and disadvantages. Therefore, to ensure you understand the difference between both types and logically decide to buy either, we will compare both technologies and mention their common features.
2.4GHz Wireless Mouse Combos
Most high-end keyboard-mouse combos utilize a 2.4 GHz wireless technology, which differs from the Bluetooth technology that a typical wireless device deploys. Gaming Keyboard and mouse manufacturers use different names to differentiate between their 2.4 GHz wireless technology and Bluetooth devices. Its main advantages and disadvantages are:
Advantages
● Longer Range: 2.4GHz connection provides a longer range of 33 feet compared to other RF devices and Bluetooth.
● Interference Resistant: In an environment with loads of wireless devices, hotspots, cordless phones, microwave etc., the polling rate or connectivity remain least affected.
● Lower Response Time: In gaming, ensuring that the hand movement you made or your pressed key is registered as fast as possible is critical. Lower response time means the device input will reflect in-game action faster.
● No Pairing: Comes with a dongle that immediately connects the device with no need for pairing.
Disadvantages
● Occupies USB Port: The USB receiver requires a port to become operational. Using a keyboard-mouse combo will reduce the number of receivers, but it will still occupy a single port.
● Losing the Receiver: Losing or damaging the receiver is a common problem with these devices.
● Power Consumption: Due to their high polling rate, they consume more power than BlueTooth.
An excellent example of a 2.4GHz Wireless Keyboard Mouse Combo is the Meetion C4120 Little. It has a long 10m range as any high-end wireless navigation device. The energy-efficient design automatically puts the device in sleep mode to save the battery. In addition, its mouse has a 3-level DPI for precision control depending on the work condition.
Bluetooth Keyboard Mouse Combos
Every keyboard and gaming mouse supplier has a Bluetooth-based product in their line-up because it has been a tried and tested technology for over a decade. Laptops and desktops feature built-in Bluetooth chipsets for connectivity. In addition, devices such as smartphones, headsets, smartwatches, keyboards, mice, and many peripherals connect to the computer through the Bluetooth communication protocol. However, as with any wireless technology, battery life, and durability remains common drawback.
Advantages
● Reciever-less operation: There is no need for a receiver for a Bluetooth-based keyboard-mouse combo. It is as simple as the pair-and-use method.
● Longer Battery: Wireless devices require power, and with an efficient design, Bluetooth requires less power for operation.
● Switch between Devices: Modern devices come with a multi-device pairing system. A simple physical button press can switch between computers. There is no need to plug/unplug the dongle.
● Secure: Security encryption of Bluetooth is better than other wireless connection methods making it less susceptible to hacking attempts.
Disadvantages
● Shorter Ranger: A Bluetooth-based device has a shorter range than a 2.4GHz device.
● Interference: Bluetooth is susceptible to interference from other wireless technologies.
● Expensive: Devices are generally higher priced compared to other RF technology.
● Compatibility: There are different versions of Bluetooth. If your device is not backward compatible, it may not work.
Wired Keyboard Mouse Combos
Gamers prefer a wired gaming keyboard and mouse for many reasons. But first, we will discuss the advantages of having a wired combo for your gaming battle station.
Advantages
● Responsive: they are always faster and more responsive than wireless technologies. Keyboard and gaming mouse manufacturers target the highest polling rate and lowest latency, which is off the charts compared to wireless devices.
● Reliable Connection: They are reliable and have no connection degradation due to environmental RF noise.
● Unlimited Power: Your devices will remain powered as long as your computer is powered. There is no need for charging.
● Security: Hacking a wire-based communication is not easy, which makes them ideal for sensitive information work environments.
● Budget Friendly: Wired device Keyboard Mouse Combos do not require a battery or specialized communication chipset to operate, directly enhancing its affordability.
● Legacy Support: Gaming devices sometimes feature the PS/2 port connection, which allows multiple key presses or mouse clicks without missing any input.
Disadvantages
● Convenience: A wired device will always need to be placed near the computer, which might be inconvenient for travelers.
● Multi-device connection: Seamlessly switching between multiple devices is impossible with a wired connection.
Wired keyboards have been around as long as computers. The Meetion AT100 is an ideal example of a reliable wired connection-based product. It has a classic ergonomic full-size waterproof design and a membrane design. As a high-end gaming mouse supplier, the company uses ABS material to make the product environmentally friendly. Its 1000 DPI sensor allows the accuracy required for office or home activities.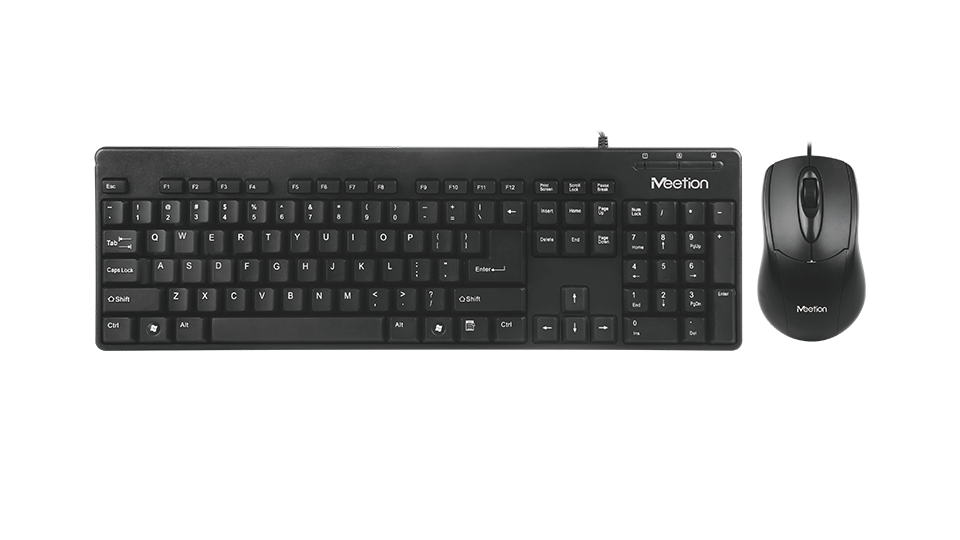 Overall Comparison
The following table provides a direct insight into the advantages and disadvantages of all three technologies Bluetooth, 2.4GHz Wireless, and Wired Connection based Keyboard Mouse Combos:
Feature

Bluetooth

2.4GHz Wireless

Wired Connection

Convenience

✔

️

✔

️

❌

Battery Life

✔

️

❌

➖

Latency

✔

️

❌

✔

️

Multi-Device Connection

✔

️

❌

❌

Security

✔

️

❌

✔

️

Range

❌

✔

️

❌

Interference

❌

✔

️

✔

️

Cost

❌

❌

✔

️

Compatibility

❌

❌

✔

️

Availability

❌

✔

️
Note: ✔️Advantage, ❌Disadvantage, ➖ Not Applicable
Best Keyboard Mouse Combos
When picking the best product for your need, things get confusing. So here are our top 5 picks consisting of budget-friendly and high-end products:
1. MEETION MT-C510 :
The designers created the C510 backlit gaming combo for gaming. Shoot in-game enemies with pinpoint precision using the 2400DPI resolution gaming mouse sensor. Click as many times as you like with the 20 million times click-to-failure switches and glide flawlessly with the aluminum feet design. With its color backlight and adjustable brightness, you can set the mood just right for your gaming sessions. Plus, with 19-key anti-ghosting, you'll never miss a beat and be fully equipped to dominate the competition!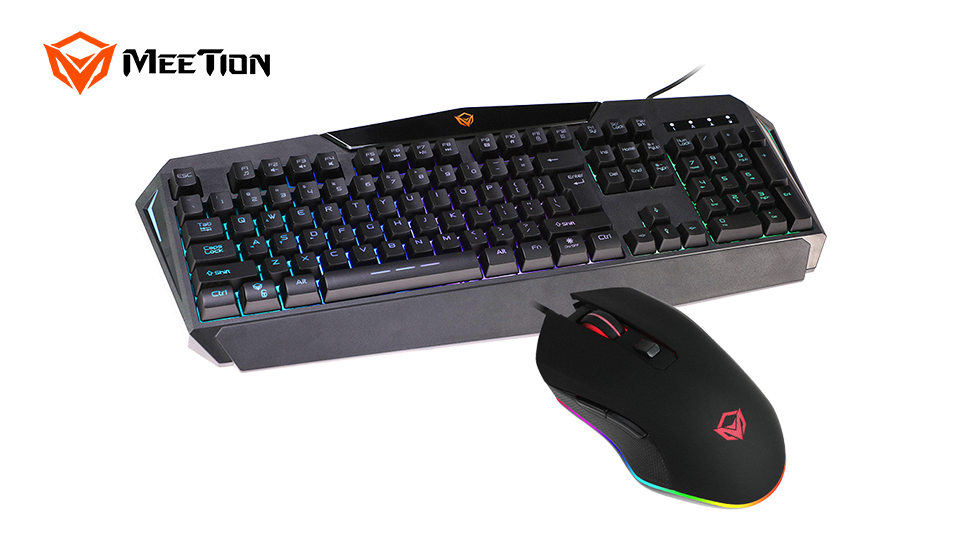 2. Dell KM636:
A subtle, sleek, contemporary design merged into the Dell Wireless KM636 combo. Its compact size with chiclet keys proves comfort for extended use. In addition, the cater-switch keys make the keyboard responsive and muted while typing. Furthermore, it prevents dust accumulation owing to the low-profile switch design. The mouse boxed with the combo has an enlarged wheel for a comfortable scrolling experience.
3. K55 + HARPOON RGB:
If you are looking for an enthusiast gaming-level product, then the K55 RGB and HARPOON RGB gaming keyboard and mouse combo offer the customization and control required for an elite experience. Its 6000 DPI optical gaming sensor-based mouse with RGB lighting and 6-programmable buttons make it suitable for gaming. In addition, the keyboard has macro support and media keys vital for any high-end product.
4. Meetion C100 :
Meetion has been around since 2013, focusing on making reliable and efficient products. We start our list with the very budget-friendly USB Wired Combo C100 because of its waterproof design and high-quality features. It's ideal for office use where quiet-key operation is critical. It comes with a mouse that is 1000 DPI for precision navigation and a 1.5m cable for a decent wire routing margin.
5. Logitech MK345:
The Logitech MK345 wireless keyboard and mouse combo offers comfortable and quiet typing on a full-size keyboard with an included palm rest, adjustable height, and easy-access media keys. The contoured right-hand mouse has smooth cursor control and precise scrolling. This combo lasts long with a 2.4 GHz USB receiver connection, a spill-resistant design, and long battery life.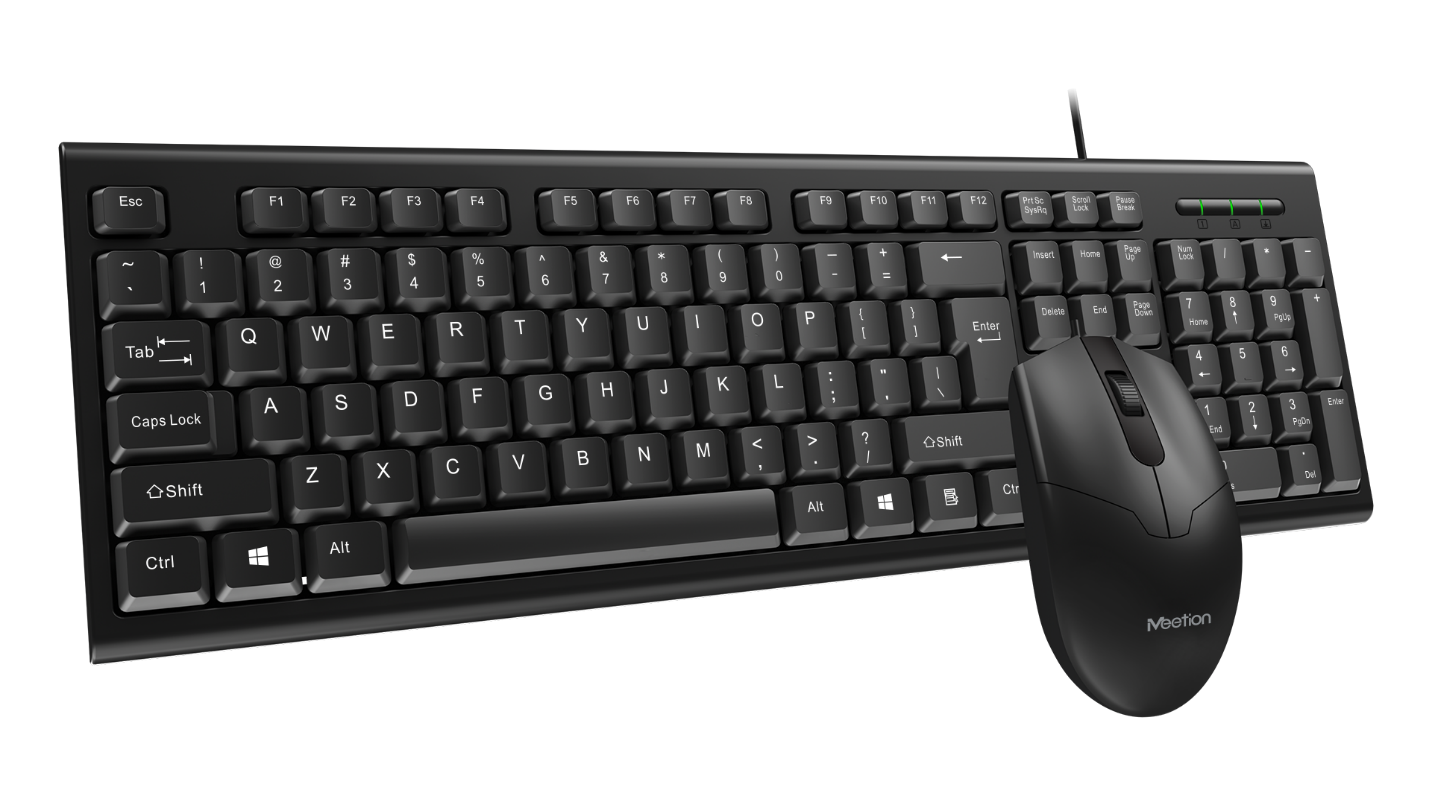 FAQs
Q1. Can a wireless mouse work with any keyboard?
A: Yes, a wireless mouse can work with any keyboard. The compatibility of a wireless mouse or keyboard depends on the operating system. Even if a wireless mouse combines with a different brand of keyboard, their manufacturers will have drivers on their website, and it can make them work together flawlessly.
Q2. Can a Bluetooth keyboard work with any mouse?
A: Yes, whether Bluetooth or a 2.4GHz wireless keyboard, It works independently of the mouse brand or nature. The mouse can have a wire plugged into the USB port or a receiver if it's a wireless mouse. In any case, the nature of the mouse does not affect Bluetooth keyboard functionality.
Q3. Does a wireless keyboard and mouse need wifi?
A: No, a wireless keyboard and mouse do not require Wi-Fi. Wireless keyboard and mouse work on a 2.4GHz Wireless connection or Bluetooth. It is independent of the WiFi connection you have at home or work. However, a WiFi signal may interfere with Bluetooth-based mouse and keyboard performance. A 2.4GHz wireless product will perform better in a dense WiFi signal environment.