MEETION TECH, a leading professional company specializing in game peripherals and computer accessories, is thrilled to announce its participation in the upcoming Hong Kong Electronics Fair (Autumn Edition) in 2023. The four-day event is set to take place from October 13th to 16th in the bustling city of Hong Kong, China, and is expected to attract visitors from across the globe.
The Hong Kong Electronics Fair (Autumn Edition) is a highly anticipated event in the electronics industry that showcases the latest technological advancements and products from around the world. As a leading player in the industry, MEETION TECH is excited to take part in the fair and will be showcasing its latest products at booth number 1C-E17.
As a global target market-oriented company, MEETION TECH is committed to providing high-quality products that meet international standards. With a strong emphasis on research and development, as well as excellent after-sales service, MEETION TECH has earned a reputation as a high-tech enterprise. At the HKEF exhibition, MEETION TECH will showcase its latest DIY mouse, keyboard and keycaps.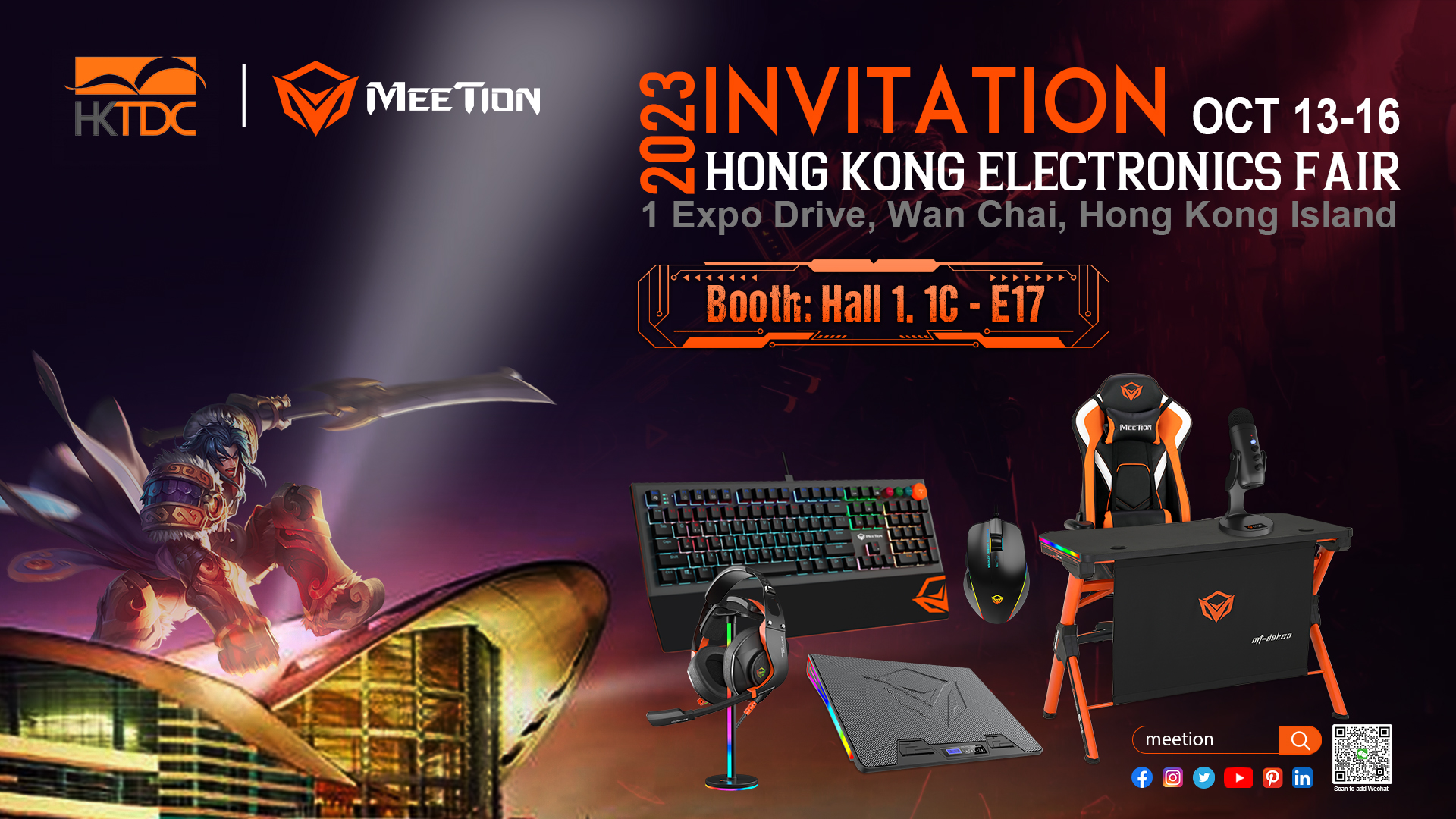 DIY Mouse: BTM011
This mouse can be disassembled without tools except for the base and motherboard. The left and right buttons, upper case, side buttons, DPI buttons, micro switch, and rebound strength spring can be replaced by the user.
Selling points:
1. Able to replace the mouse rebound spring for custom pressure grams.
2. The mouse is very light, weighing only 72g.
3. The user can replace the mouse surface accessories for personal aesthetics.
4. The micro-movement of the mouse can be replaced to suit individual preferences.
DIY keyboard: BTK011
This keyboard has a compact layout and supports three connection modes: wired, 2.4Ghz, and Bluetooth. It is compatible with both macOS and Windows and can also connect to mobile phones. It adopts type-c interface for charging. The PCB board is durable and can withstand long-term use. The keyboard has a hot-swappable shaft design, and the shaft seat can be used even after thousands of plugs and unplugs. The custom switch body ensures that users can configure their own switch body layout, and the cross-axis design can also adapt to most keycaps on the market. The keycaps are made of PBT, a tough engineering thermoplastic, which is resistant to damage from sweat.
Selling points:
1. Supports wired, 2.4Ghz, and Bluetooth modes, and is compatible with Windows, macOS, and mobile phones.
2. Hot-swappable shaft design with a long lifespan, compatible with most shafts on the market.
3. PBT keycaps are durable and resistant to damage.
4. Custom shafts and keycaps.
PBT keycaps are resistant to hot water, alkalis, acids, and oils. They are made of one of the toughest engineering thermoplastic materials, which ensures good chemical stability, mechanical strength, electrical insulation properties, and thermal stability. The keycap character process uses sublimation technology, which allows the pigment to penetrate regularly into the keycap and integrate with it, resulting in long-lasting, non-fading characters even after long-term use.
Selling points:
1. PBT keycaps are durable and come in attractive colors.
2. Sublimation technology ensures long-lasting, non-fading characters.
MEETION TECH's participation in the Hong Kong Electronics Fair (Autumn Edition) provides an excellent opportunity for global customers to explore and experience the company's innovative and high-quality products. Visitors to booth number 1C-E17 can engage with the MEETION TECH team to learn more about how these products can enhance their gaming and computing experiences. For more information about MEETION TECH and its products, please visit www.meetion.com.
Media Contact
Company Name: MEETION TECH
Contact Person: Aaron
Email: info@MEETION.com
Website: https://www.MEETION.com
City: Shenzhen
Country: China