MEETION, a leading company of game peripherals and computer accessories, is excited to announce its participation in the upcoming IFA exhibition from 1-5 September 2023. The company will be showcasing its revolutionary DIY Mouse and Keyboard that allows users to personalize their gaming experience like never before.
The IFA exhibition in Germany is a premier event that brings together top industry players from around the world. It serves as an ideal venue for MEETION TECH to demonstrate its cutting-edge technological solutions to a global audience. At Booth Messedamm 22, 14055, Hall 7.2-C605, visitors will have the unique opportunity to experience MEETION's Latest products up close, such as: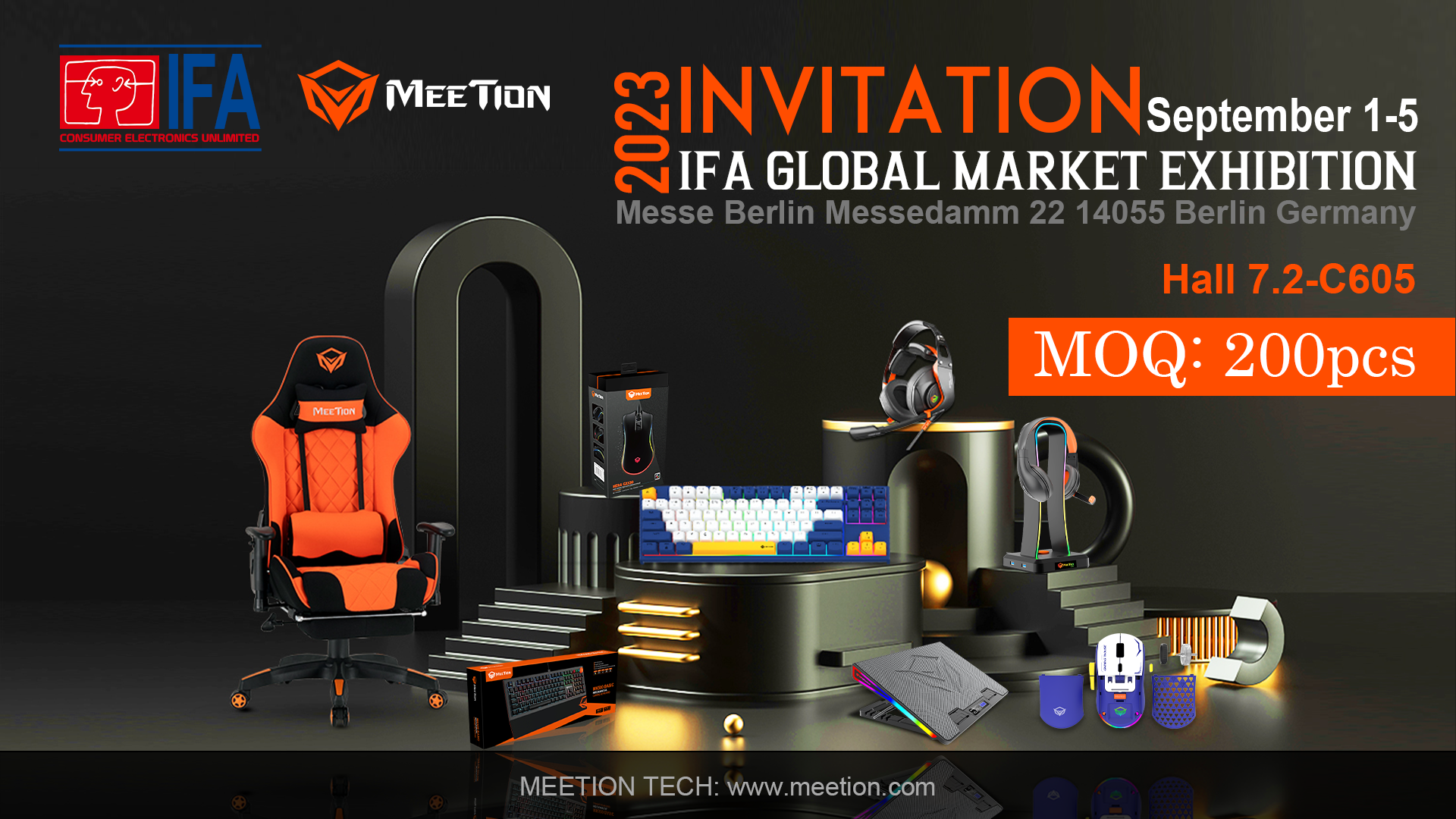 1. Key Features of the DIY Mouse:(

BTM011

)
DIY mouse can be disassembled without tools for the rest of the mouse except for the base and motherboard. The whole mouse's left and right buttons, upper case, side buttons, DPI buttons, micro switch, and rebound strength spring can be replaced by yourself.
1. can replace the mouse rebound spring, that is, custom pressure grams
2. The mouse as a whole is very light, 72g weight
3. You can replace the mouse surface accessories, the root of the personal aesthetic with different effects
4. The mouse micro-movement can be replaced to produce their own preference for the use of the mouse-swappable
2. Key Features of the DIY Keyboard:(

BTK011

)
DIY keyboard. MEETION TECH's DIY Keyboard features a compact layout and versatile connectivity. It supports wired, 2.4GHz Wi-Fi and Bluetooth modes, and is compatible with Windows, macOS, and mobile devices. With its durable Type-C charging interface, users can switch between connection methods freely. The PCB board ensures solid construction and withstands extensive use. It adopts a hot-swappable shaft design where both the switches and seat can be easily interchanged, maintaining performance even after thousands of plugs and unplugs. It is compatible with more than 90% of the shafts on the market. Customizable switch layouts and cross-keycap compatibility grant ultimate ergonomic control.
1. Three connectivity modes compatible with multiple systems
2. Hot-swappable shaft design compatible with 90% of market switches
3. Long-lasting PBT keycaps resistant to corrosion
4. Full customization of shafts and keycaps according to users' habits
3. Key Features of the PBT Keycaps :
PBT keycaps are resistant to hot water, alkalis, acids, and oils. PBT is one of the toughest engineering thermoplastic materials. It is a semi-crystalline material with very good chemical stability, mechanical strength, electrical insulation properties, and thermal stability. The keycap character process adopts sublimation technology, which uses high temperature to allow the pigment to penetrate into the keycap regularly and integrate with the keycap, so that various letters appear, and the characters will not wear out and fade after long-term use.
1. PBT keycaps are used, the color is good-looking, the quality is very good, and very durable
2. The sublimation technology is adopted for the keycap characters, and the characters will not wear out and fade after long-term use
MEETION TECH, founded in 2013, has quickly gained recognition in the industry for its commitment to research, development, and innovative design. MEETION TECH takes pride in its commitment to quality, with all products passing international certifications including CE, FCC, ROHS, and REACH. The company's products are also manufactured under strict adherence to the international quality certification system ISO 9001:2008.
Visit MEETION TECH at the IFA exhibition and experience the future of personalized gaming peripherals. Don't miss the opportunity to witness the groundbreaking DIY Mouse and Keyboard firsthand at Booth number Messedamm 22, 14055, Hall 7.2-C605.
For more information or media inquiries, please contact:
Contact: Meetion
Tel: +8675523579736
Company Name: Shenzhen Meetion Tech Co., Ltd.
Email Address: info@meetion.com