Do you know that wireless keyboards comprise 25.7% of the PC accessories worldwide market? With the rising demand for remote work, wireless keyboards are all the rage for workers these days! And why not? The benefits of wireless keyboards are unmatchable if compared with their wired counterparts. If you are a gamer or an office worker who works for hours and hours, having the proper posture and comfort is paramount for increased productivity and focus. It also means lesser fatigue on your typing fingers and wrists with no restriction of movement. You get to enjoy all these when you buy a wireless keyboard.
1. Types of Wireless Keyboards
There are two types of wireless keyboards available in the market. Bluetooth keyboards and RF 2.4 GHz keyboards.
● Bluetooth Keyboard: It communicates via Bluetooth, so your receiving device must have Bluetooth connectivity. You need to pair the keyboard, and it's ready to be used.
● RF keyboard: It communicates via Radio Frequency waves having a 2.4 Ghz frequency. You have to connect the receiver to your device, which is usually a USB dongle for the RF keyboard.
At first, both keyboards may look the same, but they have many differences in their features. To understand how they can enhance productivity, in the next section, let's look at each type's benefits and some popular devices.
2. Benefits of Bluetooth Keyboards
Users can connect Bluetooth keyboards with any device with a Bluetooth receiver. Most modern devices, such as mobiles, tablets, laptops, etc., already have Bluetooth features. It has become a universal feature. Therefore, Bluetooth keyboards offer the best compatibility. On the other hand, 2.4 GHz keyboards rely on USB dongles to work and only connect to devices with USB ports.
3. Best Bluetooth Keyboards in 2023
Logitech MX Keys S Wireless Keyboard
Imagine your keyboard lit up when your hands reach it, and the brightness adjusts according to your surroundings. Logitech MX Keys S comes with this cool feature thanks to the' Smart Illumination' technology. It also has a handy feature of programmable keys where you can customize frequently used actions with short keys. So, you can easily set up multiple actions with the tap of a single key.
Moreover, this keyboard has a multi-connectivity feature supporting 3 devices simultaneously. Not only devices, but it is also compatible with multiple OS such as Windows, Linux, Mac, iPad, and Chrome. All in all, it's a great keyboard to have with you.
Meetion MK005BT 60% Bluetooth Keyboard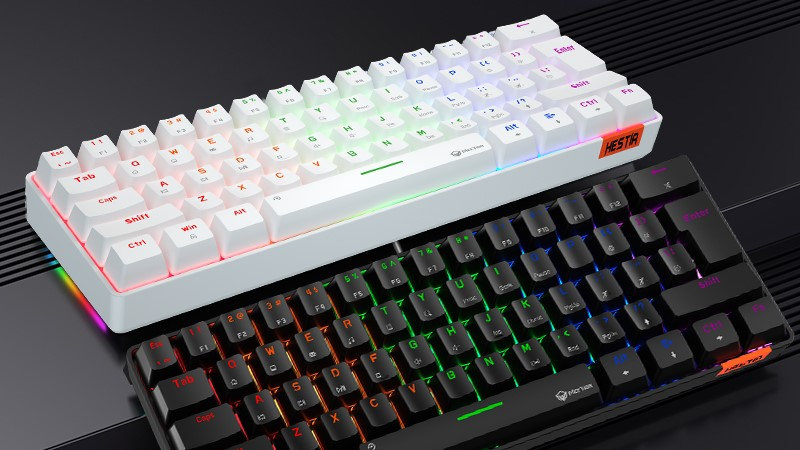 Meetion Dual Mode Bluetooth 60% Gaming Keyboard MK005BT is one of a kind. Equipped with dual modes of USB cable and Bluetooth connectivity features, this is a must-have if you are an office worker with a knack for casual gaming. The exceptional ergonomic design is well suited for a gamer's hands and performance while also compliments a daily office person. It comes in classic two colors of black and white.
The cool RGB lighting features make it look very pleasing to the eye. It also has a variety of customized functions as well as elements of full-key anti-ghosting. If you want to use it as a wired keyboard, the USB cable length is a standard 1.8 meters. If you want to enjoy the benefits of a wired and wireless keyboard, this Meetion keyboard is a must-buy!
Asus ROG Azoth
Asus ROG Azoth is the Reddot winner 2023 for its premium gaming features. If you are a passionate gamer, this may become your new favorite keyboard once you learn more about it. It comes with an OLED display, giving it so much visual appeal that you might love it at first sight.
Its mechanical keys are sturdy, and the sound & feel is excellent thanks to the gasket-mounted design and the use of porous foams. Hence, the build quality is excellent and can serve you long. RGB lighting feature gives cool vibes. You don't need to worry about compatibility issues as it can support up to 3 Bluetooth devices simultaneously and works with Windows and MacOS. For passionate gamers, this one is highly recommended!
4. Benefits of USB 2.4 GHz Keyboard
USB 2.4 GHz keyboards have the lowest tendency to suffer any lag or latency. Their mode of communication is very speedy and responsive. These keyboards connect faster to their devices than BT ones which take a lot of time to get paired. Moreover, they are also more budget-friendly as compared to BT keyboards. The potential for signal interference is also meager. On the other hand, if you work in a space with multiple Bluetooth devices, there is a good chance of potential signal interference resulting in unwanted lag and disruption.
5. Best 2.4GHz Wireless Keyboards in 2023
Microsoft All-in-One Media
Designed specifically for your office work and living rooms, this is perfect for people working from home. Once you connect it with a USB dongle, you get incredible freedom to move around 30 ft in your space. Working at home can be tricky as occasional spills on the keyboard may occur. But you need not worry about that, as its spill-resistant design will take care of any unwanted sit-ons or accidental spills. With many customizable key options, here is your chance to easily access your favorite music, photos, and videos. Lastly, its multi-touch pad enhances gesture support to click, zoom, swipe, drag, and tap.
Meetion WK410 2.4GHz Wireless Keyboard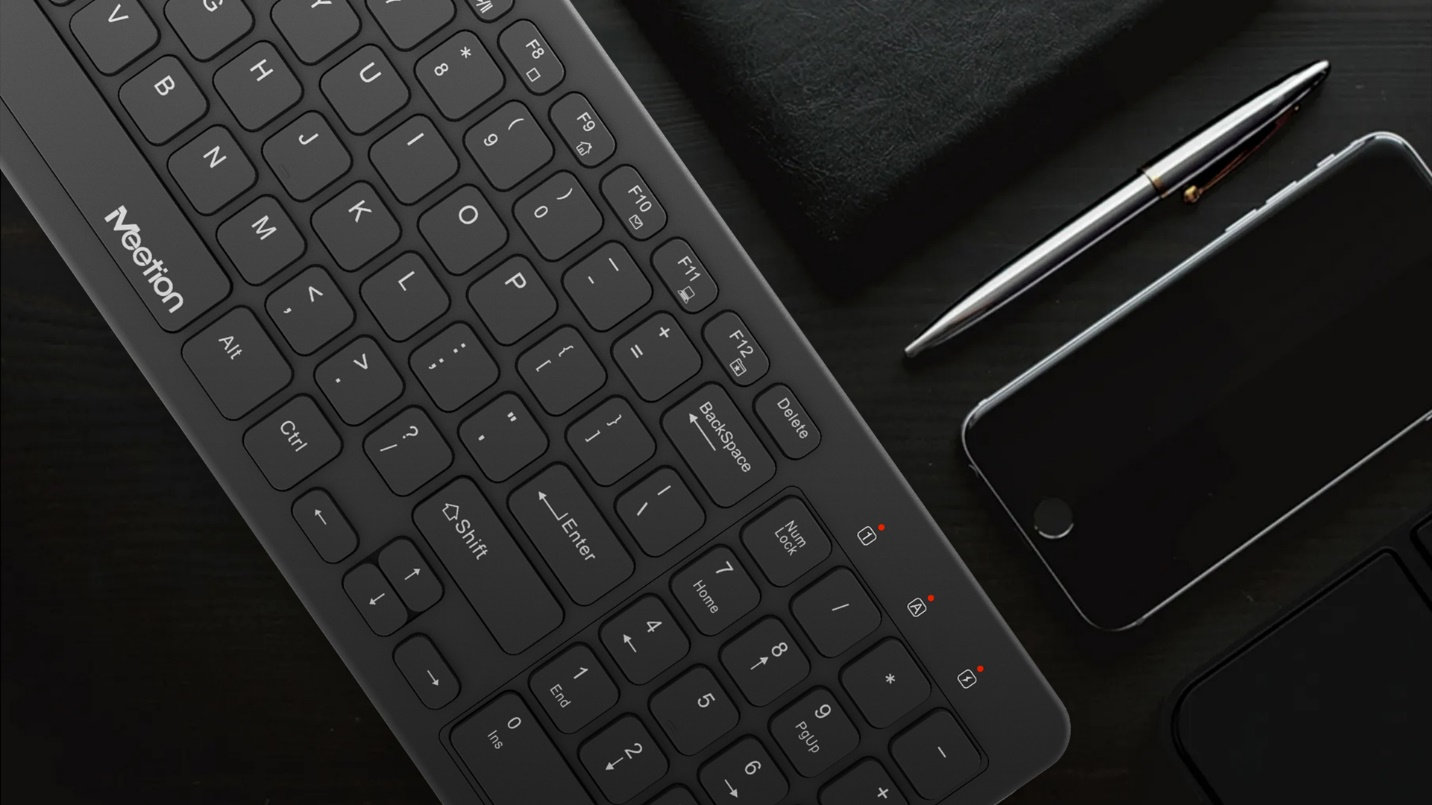 This Meetion Wireless Ultra Thin Chocolate Keyboard WK410 boasts an ultra-slim design with incredible ergonomics. The thickness is just 6 mm. It is one of the highest-quality membrane keyboards with a UV layout design. It comes equipped with 12 multi-media keys and convenient mute buttons.
Meetion WK410 is a keyboard well-suited for office work, leisure, and entertainment. If you consider this one, you don't have to worry for a long time as its latest energy-saving technology and signal stability will keep you happy and satisfied with your investment.
Logitech MX Keys Mini
This keyboard comes with a minimalistic design made especially for creators. It makes them feel so comfortable and flexible that all they do is focus on their task and increase their productivity. Its perfect ergonomic design ensures your shoulders, fingers, and wrists are in a position to minimize any strain or fatigue you may have. The typing experience is very fluid too. The helpful smart keys provide instant access to emojis, mute, unmute functions, dictation, etc. And not to mention smart illumination, which has been a critical feature of the MX Keys series.
6. Conclusion
So, which one should you buy? Well, the final choice depends entirely upon your preferences. If you use multiple devices while switching the keyboard between them and love having portable setups without the hassles of managing USB dongles, you should go for a Bluetooth keyboard. On the other hand, if you can not compromise on a stable and reliable connection for gaming or graphics design, freedom of movement for a more extensive range, and can manage the hassle of USB dongles, we suggest you buy a 2.4 GHz wireless keyboard.