Welcome to our comprehensive guide on the age-old debate: "Is wireless mouse better than wired for gaming?" For avid gamers, the choice between these two types of mice can be a never-ending deliberation. In this article, we meticulously examine the pros and cons of both options, aiming to settle the debate once and for all. Whether you're an ardent supporter of the traditional wired mouse or intrigued by the allure of a wireless counterpart, join us as we dive deep into the gaming realm to shed light on which one truly reigns supreme. Let's uncover the truth and find out if cutting the cord grants you an edge or if a reliable wired connection still prevails in the ultra-competitive gaming arena.
Defining the Pros and Cons of a Wireless Mouse for Gaming
In today's gaming world, where precision and accuracy are paramount, choosing the right mouse can make all the difference. With the rise of wireless technology, gamers find themselves caught in a dilemma – should they opt for the tried and tested wired gaming mouse or embrace the convenience of a wireless one? In this article, we delve deep into the realm of wireless gaming mice, exploring their pros and cons, and help you make an informed decision. So, let's jump right into it.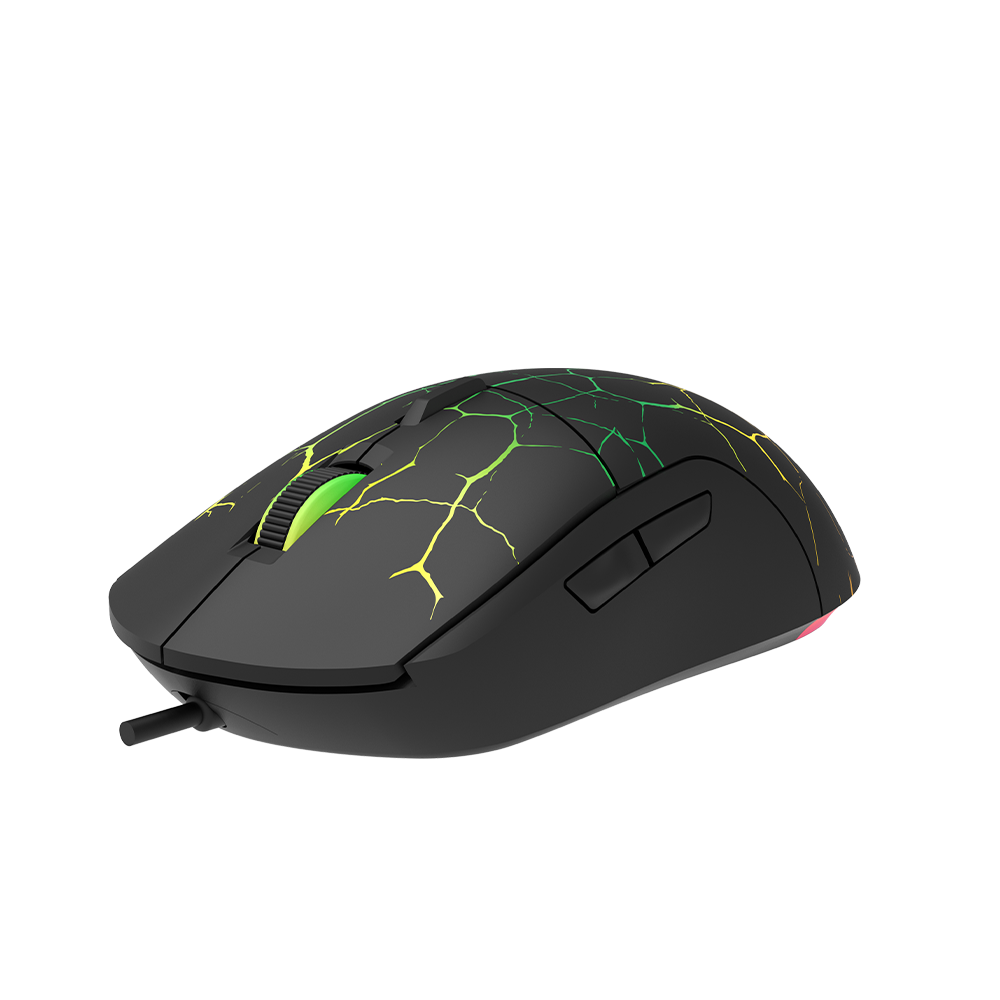 When it comes to wireless gaming mice, one of the most significant advantages they offer is freedom of movement. Unlike their wired counterparts, these devices do not tether you to your computer desk. This means you can comfortably sit back, relax, and play games from a distance without worrying about cable tangles or restrictions. Additionally, wireless mice eliminate the need for a cumbersome mouse pad, allowing for smooth and uninterrupted cursor movements.
Another advantage of wireless gaming mice is the enhanced aesthetic appeal. With no wires cluttering your gaming setup, you can achieve a cleaner and more organized look. This, in turn, can boost your gaming experience and improve focus by removing potential distractions.
Furthermore, many wireless mice today come equipped with advanced technology such as rechargeable batteries and rapid charging capabilities. This eliminates the need for constantly replacing batteries, saving you both time and money in the long run. With the steady advancements in battery life, wireless gaming mice have become increasingly reliable and can now match or even surpass their wired counterparts.
On the flip side, there are a few drawbacks to consider when it comes to wireless gaming mice. One of the most prominent issues is latency. In competitive gaming where split-second reactions can be the difference between victory and defeat, even the slightest delay caused by wireless connectivity can be frustrating. However, it is worth noting that with advancements in technology, modern wireless gaming mice have greatly reduced latency compared to their predecessors.
Battery life is another crucial factor to consider. While rechargeable batteries have improved, the convenience they offer can come at a cost. Forgetting to charge your mouse or having it die in the middle of a gaming session can be incredibly frustrating. However, with the availability of rapid charging technology, this inconvenience can be mitigated to a certain extent.
It is also important to note that wireless gaming mice can be more expensive than their wired counterparts. The additional cost is attributed to the advanced technology and convenience they offer. However, with the proliferation of wireless gaming mice in the market, the price gap between wired and wireless options has significantly narrowed.
Lastly, wireless gaming mice may not be suitable for every gaming setup. Depending on your gaming environment, interference from other wireless devices can impact the performance of your mouse. Factors such as distance from the receiver and obstacles in the line of sight can contribute to connectivity issues. It is essential to ensure a clear line of sight between the mouse and the receiver to minimize any potential problems.
In conclusion, choosing between a wired and wireless gaming mouse ultimately depends on personal preference and gaming requirements. Wireless gaming mice offer freedom of movement, improved aesthetic appeal, and advanced technology. However, they also come with potential drawbacks such as latency, battery life concerns, and a higher price tag. It is crucial to consider these pros and cons carefully before making a decision. Ultimately, finding the perfect gaming mouse, be it wired or wireless, will contribute to an immersive and enjoyable gaming experience.
Examining the Performance and Responsiveness of Wired Mice in Gaming Environments
In the realm of gaming, the choice of a gaming mouse plays a crucial role in the overall gaming experience. One of the primary considerations is whether to opt for a wired or wireless mouse. This article delves into the extensive examination of the performance and responsiveness of wired mice in gaming environments, offering an in-depth analysis to determine if wired gaming mice, such as the ones offered by Meetion, surpass wireless alternatives.
1. The Advantage of Wired Mice in Gaming:
a. Enhanced Responsiveness and Input Lag:
Wired gaming mice are known for their unparalleled responsiveness, ensuring smooth and instantaneous cursor movements. Unlike wireless mice, the connection between a wired mouse and the computer is direct, minimizing input lag significantly. Meetion's wired gaming mice, boasting cutting-edge technology, offer lightning-fast response times, enabling gamers to execute precise movements with exceptional accuracy.
b. Consistent Signal Integrity:
Wireless mice are susceptible to signal interference or loss, which can result in inconsistent cursor movements during critical gaming moments. Wired mice, on the other hand, remain unaffected by external interference, providing a reliable and stable connection. Meetion's wired gaming mice incorporate robust cable designs and advanced shielding techniques, guaranteeing uninterrupted signal integrity for a seamless and immersive gaming experience.
c. Uninterrupted Power Supply:
Unlike wireless mice, which rely on batteries or rechargeable power, wired mice are powered directly through USB connections. This eliminates concerns about battery life or interruptions during intense gaming sessions, allowing gamers to focus solely on their gameplay. Meetion's wired gaming mice assure continuous power supply, ensuring uninterrupted gaming without any downtime.
2. Ergonomics and Customization:
a. Comfortable and Ergonomic Design:
Meetion's wired gaming mice are ergonomically designed, considering the needs and preferences of gamers. With features like contoured shapes, adjustable weights, and grip-enhancing surfaces, these mice provide comfortable and fatigue-free gaming sessions, allowing gamers to perform at their best for extended periods.
b. Customization Options:
Wired gaming mice, like Meetion's offerings, often provide extensive customization options through dedicated software. Gamers can personalize button configurations, DPI settings, RGB lighting, and macros to suit their gameplay style, giving them a competitive edge in various gaming scenarios. This level of customization is highly valued by professional gamers and enthusiasts seeking full control over their gaming peripherals.
3. Price and Availability:
a. Affordability:
Wired gaming mice generally come at a more affordable price point compared to wireless alternatives. Meetion, being a reputable gaming peripheral brand, offers a wide range of wired gaming mice options, catering to different budget constraints without compromising on quality or performance.
b. Extensive Availability and Compatibility:
Wired gaming mice, being the longstanding standard, have excellent compatibility with various gaming platforms, including PCs, Macs, and gaming consoles. Meetion's wired gaming mice are readily available in the market, making them easily accessible to gamers worldwide. Additionally, the wide compatibility ensures seamless integration into any gaming environment, whether it is for competitive eSports or casual gaming.
Resilient, responsive, and designed with gamers in mind, wired gaming mice, specifically Meetion's offerings, exhibit superior performance and reliability compared to wireless alternatives. The direct connection and uninterrupted power supply empower gamers to maximize their abilities and dominate gaming environments effortlessly. With their ergonomic design, customization options, affordability, and extensive availability, wired gaming mice remain the preferred choice for passionate gamers seeking optimal performance and responsiveness in intense gaming scenarios.
The Advantages and Drawbacks of Choosing a Wireless Mouse for Gaming Efficiency
In the world of gaming peripherals, the debate between wired and wireless mice has been ongoing for years. While wired gaming mice are the traditional choice among gamers, the emergence of wireless options has garnered increasing attention. This article aims to delve into the advantages and drawbacks of choosing a wireless mouse for gaming efficiency, shedding light on whether wireless mice can truly outperform their wired counterparts.
Advantages of Wireless Mice for Gaming Efficiency:
1. Freedom of Movement: One of the primary advantages of using a wireless mouse for gaming is the freedom of movement it offers. Without being tethered to the computer, gamers can enjoy unrestricted and fluid movement. This can be particularly beneficial for esports players who rely on swift and precise movements to gain a competitive edge.
2. Reduced Cable Clutter: Wired gaming mice often come with long cables that can become tangled, causing distraction and hindering uninterrupted gameplay. In contrast, wireless mice eliminate cable clutter altogether, providing a cleaner and more organized gaming space. This can improve focus and allow gamers to fully immerse themselves in the game without any hindrances.
3. Ease of Travel: For gamers who frequently travel or attend LAN parties, wireless mice offer a significant advantage. Being compact and portable, they can be easily carried in a bag or backpack without the need for additional cable management. This convenience ensures that gamers can enjoy their favorite games anywhere, anytime, without missing out on the efficiency and precision of a gaming mouse.
4. Seamless Connectivity: With advancements in wireless technology, the connectivity of wireless mice has drastically improved. Modern wireless mice offer stable and reliable connections, minimizing the potential for input lag and latency. This ensures that gamers can enjoy a seamless gaming experience, with every movement being accurately transmitted to the game without any delay.
Drawbacks of Wireless Mice for Gaming Efficiency:
1. Potential for Interference: As wireless mice rely on radio frequency or Bluetooth connections, there is a possibility of interference from other devices operating on the same frequency. This interference can result in erratic cursor movement or even disconnections, which can be a major drawback during crucial gaming moments. However, it is important to note that such interference is relatively rare and can be avoided by using high-quality wireless mice.
2. Battery Life and Charging: Unlike wired mice that draw power directly from the computer, wireless mice require batteries or rechargeable cells for operation. This can be inconvenient, as it necessitates periodic battery changes or recharging. In situations where the battery runs out during a gaming session, it can interrupt gameplay and lead to frustration. However, many modern wireless mice come equipped with long-lasting batteries, mitigating this issue to a certain extent.
3. Higher Cost: Wireless gaming mice generally come with a higher price tag compared to their wired counterparts. The additional cost is attributed to the inclusion of wireless technology and batteries, which can further increase the overall price. This can be a significant factor for budget-conscious gamers who may need to weigh the benefits against the financial impact.
In conclusion, the choice between a wireless and wired gaming mouse ultimately depends on individual preferences and requirements. While wireless mice offer the freedom of movement, reduced cable clutter, ease of travel, and seamless connectivity, they also come with potential drawbacks such as interference, battery life concerns, and higher costs. Gamers should carefully consider these factors and assess their gaming needs before making a decision. Here at Meetion, we offer a wide range of wireless gaming mice with advanced features, ensuring a seamless and efficient gaming experience for all.
Factors to Consider When Choosing Between a Wireless or Wired Mouse for Optimal Gaming Experience
In the fast-paced world of gaming, having the right accessories can make all the difference in your performance. One such crucial component is the gaming mouse. With the advancement in technology, gamers have been presented with the choice between using a wireless or wired mouse. While both options have their own merits, it's important to consider certain factors before making a decision that will ultimately enhance your gaming experience.
Responsiveness is a key factor that can significantly impact your gaming performance. Wired gaming mice have a clear advantage in this aspect. Unlike wireless mice, which rely on signals sent through radio frequency or Bluetooth, wired mice offer a direct and instantaneous connection to your computer. This minimizes any potential lag or delay, ensuring that your actions are translated into quick and precise movements in the game. This immediate response can be the difference between winning and losing during intense gaming sessions.
Another important consideration is the issue of battery life. Wireless mice, by their nature, run on batteries. While modern wireless mice have significantly improved their battery life, there is still the constant need to recharge or replace batteries. Imagine being in the middle of an intense gaming session only to have your mouse die on you. This interruption not only breaks your concentration but also leads to frustration. On the other hand, a wired mouse remains powered as long as it's connected to your computer. There's no need to worry about battery life running out, allowing you to focus solely on your game.
Gamers often emphasize the importance of precision and accuracy, especially in competitive gaming. This is where the sensitivity of the mouse becomes crucial. Many wired gaming mice come with adjustable DPI (dots per inch) settings, allowing users to fine-tune the level of sensitivity to their liking. This level of control can be extremely beneficial when aiming or performing complex maneuvers in the game. While some wireless mice also offer adjustable DPI settings, they may not match the precision and accuracy provided by their wired counterparts.
Comfort is a subjective factor that varies from person to person. However, it's worth noting that wireless mice tend to be lighter and more portable compared to their wired counterparts. This can be advantageous for gamers who frequently travel or participate in LAN parties. Wireless mice also eliminate the hassle of dealing with tangled wires, providing a clutter-free and neat gaming setup. On the other hand, wired mice offer a sense of stability and reliability. There's no need to worry about the battery dying suddenly or losing your connection mid-game.
Price is another consideration that can impact your decision. In general, wired gaming mice tend to be more affordable compared to wireless options. This is due to the additional components and technology required for wireless mice. However, it's important to note that the price range varies significantly depending on the brand and additional features. Meetion, for example, offers a wide range of wired gaming mice at competitive prices without compromising on quality.
In conclusion, choosing between a wired or wireless gaming mouse ultimately depends on your personal preferences and requirements. If you prioritize responsiveness, precision, and uninterrupted gameplay, a wired mouse is your best bet. On the other hand, if you value portability, convenience, and a clutter-free setup, a wireless mouse may be more suitable. It's important to evaluate the factors discussed above and determine which aspects are most important to you as a gamer. By making an informed decision, you can ensure an optimal gaming experience that fits your individual needs.
Evaluating the Overall Gaming Experience: Does the Wired or Wireless Option Reign Supreme?
The gaming industry has experienced significant advancements in recent years, catering to the ever-evolving needs and preferences of gamers. Amongst the many gaming peripherals, the mouse holds a special place as it directly affects the gaming experience. In this article, we will delve into the debate surrounding wired and wireless gaming mice, with a particular focus on the superiority of wired gaming mice. As a leading gaming peripherals manufacturer, Meetion understands the importance of a superior gaming experience and aims to provide insights into why wired gaming mice still reign supreme.
Unparalleled Responsiveness:
One of the primary reasons why wired gaming mice continue to dominate the market is their unparalleled responsiveness. Wired mice are directly connected to the system, allowing for instantaneous transmission of commands, resulting in minimal input lag. This exceptional responsiveness is crucial, especially in fast-paced games that require split-second reactions. Meetion, leading the charge in gaming peripherals, ensures its wired gaming mice are designed with highly responsive sensors and minimal latency, guaranteeing a delightful and uninterrupted gaming experience.
Consistent and Uninterrupted Connection:
Wireless mice, though convenient, occasionally suffer from interference or disconnections, leading to frustrating gameplay interruptions. In contrast, wired gaming mice maintain a consistent connection throughout gaming sessions. This reliability allows gamers to focus on their gameplay without worrying about any disruptions. Meetion's range of wired gaming mice feature durable cables designed to withstand the wear and tear of intense gaming, ensuring a stable connection throughout prolonged gaming sessions.
Zero Input Lag:
In competitive gaming, even the slightest delay can make or break a game. Wired gaming mice have zero input lag due to their direct connection to the system. This ensures that every click and movement is registered instantly, optimizing precision and accuracy. Meetion's wired gaming mice boast cutting-edge technology and advanced tracking systems, thereby eliminating input lag, and improving overall gaming performance.
Superior Precision and Accuracy:
For gamers seeking remarkable precision, wired gaming mice offer an unparalleled edge. The wired connection eliminates any chances of signal interference, providing exceptional accuracy during gameplay. The absence of lag or latency allows players to execute precise and timely maneuvers, essential for success in competitive gaming. Meetion's wired gaming mice capitalize on this advantage, incorporating high-definition optical sensors and adjustable DPI settings for unrivaled precision and accuracy.
Consistent Power Supply:
Battery life has always been a concern for wireless gaming mice. The interruption caused by low battery notifications during crucial gaming moments can be frustrating and may impact overall performance. On the other hand, wired gaming mice draw power directly from the system, ensuring an uninterrupted power supply. This eliminates the need for batteries or regular recharging, providing a hassle-free gaming experience. Meetion's wired gaming mice are designed to optimize power efficiency while maintaining peak performance.
While wireless gaming mice may offer convenience in terms of portability, wired gaming mice undeniably prevail in terms of responsiveness, consistency, precision, and uninterrupted power supply. Meetion, committed to innovation and delivering top-notch gaming peripherals, has established its position as a leader in crafting exceptional wired gaming mice. With their extensive range of products honed to perfection, Meetion continues to ensure that gamers enjoy a superior gaming experience that wired gaming mice effortlessly deliver.
Conclusion
After analyzing the various perspectives surrounding the topic of whether a wireless mouse is better than a wired one for gaming, it becomes clear that there is no one-size-fits-all answer. Both wireless and wired mice have their advantages and drawbacks, and the decision ultimately depends on the individual preferences and requirements of the gamer.
In terms of convenience and mobility, the wireless mouse undoubtedly takes the upper hand. The freedom to move around without being tethered to a cable can greatly enhance the gaming experience, especially for those who play on large screens or prefer a more relaxed gaming setup. Additionally, wireless mice often have programmable buttons and adjustable sensitivity settings, providing a customizable experience for gamers seeking optimal control and precision.
However, when it comes to responsiveness and reliability, the wired mouse has proven to be the long-standing champion. The direct connection between the mouse and the computer ensures minimal lag and uninterrupted signal transmission, crucial for competitive gaming where split-second decisions can determine victory or defeat. Moreover, wired mice do not require batteries or charging, eliminating the concern of running out of power in the middle of a heated gaming session.
Ultimately, the choice between a wireless mouse and a wired one boils down to personal preference. While wireless mice offer unmatched flexibility, wired mice provide unparalleled reliability. Gamers who value mobility and customization may opt for a wireless mouse, while those seeking maximum responsiveness and stability may lean towards a wired mouse.
In conclusion, the question of whether a wireless mouse is better than a wired one for gaming does not have a definitive answer. Both options have their pros and cons, and the preference for one over the other ultimately depends on the particular needs and preferences of the individual gamer. It is essential to carefully consider the specific requirements of your gaming style and environment before making a decision. So, whether you choose to embrace the freedom of a wireless mouse or stick to the tried-and-true reliability of a wired one, the most important aspect is to enjoy your gaming experience to the fullest.