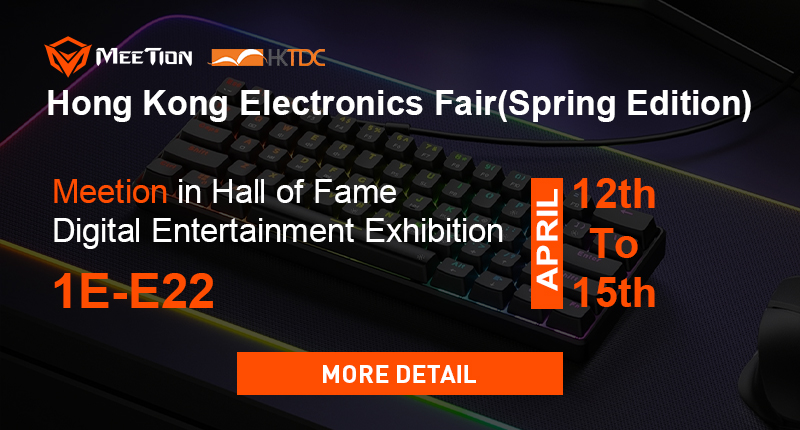 Meetion has earned a big reputation as a premier manufacturer of computer peripheral accessories, mouse, keyboards, and PC gaming accessories. So when this famous brand revealed that they were attending the Hong Kong International Electronics Fair, 2023, the anticipation was high in the industry about the new products they could present at the event. True to its reputation to pleasantly surprise its fans, Meetion has just announced that for the first time ever it is introducing 3 brand-new products, i.e., DIY Keyboard, DIY Mouse, and PBT Keycaps. Asia's Largest Spring Electronics Fair organized by the HKTDC and held at the HKCEC, the Hong Kong Electronics Fair (Spring Edition) is the largest electronics fair in Asia which attracts customers from all across the globe. There is no doubt that these innovative products by Meetion will get immense exposure at the event, as not only the gaming market is on the rise, but even customers are looking for new and exciting products like what Meetion is introducing.
1. DIY Keyboard
The DIY Keyboard allows users to modify their keyboard to suit their unique utilization patterns. It has a compact design and supports three connection types—wired, 2.4 GHz, and Bluetooth—so users can choose how they want to join at any time. It works with Windows and macOS and can link to mobile devices as well. For simple charging, the keyboard uses a type-C interface. A hot-swappable shaft design on the keyboard enables users to swap out the shafts without soldering. Because the keycaps are made of PBT, one of the strongest engineering thermoplastics, users no longer fear their hand sweat corroding the keycaps.
2. DIY Mouse
Without using any tools, the DIY Mouse can be disassembled, enabling users to independently replace the mouse's left and right buttons, upper case, side buttons, DPI buttons, micro switch, and switch. This feature makes it simple for users to personalize their mouse in accordance with their tastes and guarantee that it functions best for their unique requirements. The DIY Mouse's ability to change the mouse switch, which enables users to tailor the pressure grams to their preferences, is one of its standout features. The mouse weighs only 72g, which makes it extremely lightweight and convenient to handle for extended periods. In addition to its interchangeable parts, the DIY Mouse lets users swap out the mouse surface to give the device a customized look. The micro-movement can also be changed to create the user's favored mouse, ensuring that the mouse is responsive and comfortable to use.
3. PBT Keycaps
​​The PBT Keycaps comprise Polybutylene Terephthalate, one of the strongest engineering thermoplastic materials. (PBT). They are perfect for intensive use because they can withstand hot water, alkalis, acids, and oils. Mechanical toughness, electrical insulation, and temperature stability are all features of PBT keycaps. Thanks to sublimation technology, the characters on keycaps won't degrade or fade over time, guaranteeing that the keycaps retain their aesthetic appeal.
"We are excited to launch our latest products at the 133rd Canton Fair," said Li, a spokesperson for Meetion. "Our new products are designed to meet customers' needs in different markets and provide them with a high-quality experience at an affordable price. We invite visitors to our booth to try our latest products and experience their performance and quality."
Visitors who want to get a first-hand experience of these products can join them at the booth number Hall of Fame- Digital Entertainment 1E-E22 from April 12-15, 2023.
To learn more about Meetion and its products, send an email to info@meetion.com, or visit: https://www.meetion.com
Contact: Meetion
Tel: +8675523579736
Company Name: Shenzhen Meetion Tech Co., Ltd.
Email Address: info@meetion.com